Trek Summer Sprint Series Round 1 - Dino and Rob!
Dino and Rob stormed the TSSS round 1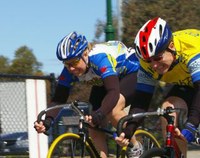 Rob holds off a hard charging Leah Patterson during a heat
In near perfect conditions Dino and Rob took first and second places in B grade in the first round of the TSSS. A huge aboc contingent helped run the event and despite small numbers, it was a success and all who raced were enthusiastic and very happy with the day's racing. They'll be back and will bring their friends. Match Sprinting is going to grow in Melbourne this summer!
Results and photos are here.