Emily Apolito - State Champion!
Emily Apolito is the JW13 track state champion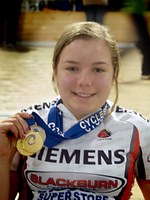 Queue here for autographs!
At DISC today, Emily Apolito rode a 16:10 (44.7 km/h) flying 200, to make her the Victorian female J13 flying 200 title holder, she also won the 500m ITT in 47.1s (38.2 km/h) as well as second in the JW13 scratch race. This makes her the JW13 Victorian State Track Champion. Fantastic riding from Emily.