DISC was good!
We had a very good turnout at DISC last night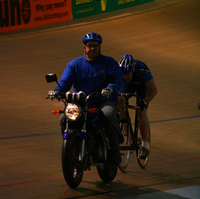 For our second last DISC training session for 'winter' we had a very healthy turnout - Lucie came along and took some photos which I hope to have to put up on the website in the next day or so, and we did some good quality training.
I tried out the new 5 spoke FFWD wheel but had to stop as soon as I got it onto the bank, it started wobbling - something was loose and I'm not sure what, so it didn't have much of a debut, I had to quickly swap back the Bontrager carbon front to do the warmup.
The sprinters warmed up this time with revouts behind the motorbike (150rpm at 57km/h for me, not too bad) and then we did flying 100's. Nath was timing but my old stopwatch is a bit flakey - He recorded me doing a 6.1s flying 100, which if it was accurate, I'd be thrilled with, but I'm pretty sure it's out by a bit. The powertap did record 58km/h but not for the whole 7 seconds of the effort ... We'll see next weekend at the Practice Day when it's 200m, outdoors ... That'll show if there's been any significant gains made over the winter.
We did a few other drills, and Chris Ray punished all of us doing jumps in big gears. We (sprinters) finished off with match sprints, Dino surprised himself by pushing a big gear and riding it very well indeed (maybe that gym work is having an effect Dino?!) and I matched up against Emily. I was on 51x14 (98.4"), she's riding a 6m rollout with a 47x17 (73" or something?). To be fair though, I put her in the lead and made the rule that I could only react to her, not initiate the sprint or I'd have way too much speed. She did a really good job of covering all the moves I made behind her and with a lap and a half to go she blocked me up high, took a sharp line down at the end of the finishing straight when she kicked while I was still having to go up the hill, and I couldn't catch her. Very impressive!
Afterwards at the traditional chicken & chips, we spoke of club politics. I urge anyone reading this who is a Blackburn member to come to the re-scheduled meeting this Wednesday night - if you agree or disagree with the proposed move to DISC - come and have your say and vote. I think this is something very important indeed for the future of the club and for accessible club-level appropriate track racing.