A PB at the BSSS practice day
Woot!
Today was thr practice day for the Bontrager Summer Sprint Series, and we did two flying 200's and two match sprints each.
The weather, perfect - very little wind, cool and overcast. We had 14 people riding, which was great! A few newcomers who did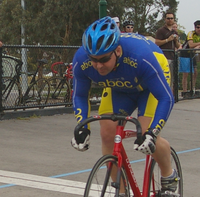 really well, the Dundas Mafia, the Apolito Crew etc. My first F200 was a PB for me at BBN, but only a 14.43, my previous PB being a 14.44, so within human error (~0.1s) it was the same time. Dino, Dino was on fire, pulling out a scorcher for him, a 13.51, where did he get that from?! Wow! The Wizard came along and predicably was the only rider to clock a sub-13s time, a 12.6 first up. Second F200, and I manage a new PB at Blackburn, a 13.88, that's probably about a 13.5 at DISC or faster, so I'm very happy. Dino goes faster again! 13.39, not that far off Barry's time, so Barry at least will need to pay serious attention to Dino and not let him get a big gap.
Sprinting time, first up I'm matched against Martin Lama, Martin's a former triathete and mainly rides road time trials, but he's pretty quick in the sprint, he's qualified with a 13.86, I figure I should be able to win, but can't make any mistakes. I lead it out, he gives me too much room on the bottom corner during lap 1 and I jump, he's got a small gear on due to a mechanical he's trying to sort out, and never has the oompf to get past - win one to me.
Dino races Barry first up, and although Barry wins, it's no easy win, Dino surprised The Wizard and almost scored an upset win. Second round and I'm up against Dino. So far at DISC and here we're evenly matched, which is to say every match sprint we've done has been close, and we're 50/50 on wins. It's great for us to be so closely matched, as we really have to work hard and it's good sport.
I lead out again (I like to be the lead rider), and at the bottom of lap one Dino dives under me and I jump straight onto his wheel. I'm a bit complacent here thinking he's made a blunder and I've got an easy tow around, but he surges and opens a gap of 5 or 6 meters, which I don't pull back until it's too late, half way around the final bend, I come off the wheel with speed, but it's not enough and he wins by half a bike.
Barry's two flying 200's on video :
Here you can see the race between Martin Lama and me, he's on quite a small gear, I think if he was on something a bit bigger the result would have been less clear-cut.

And here's Dino, giving me a lesson!