SSS r2 run
An acceptable F200, some bad decisions but one win
My day at round 2... I won't bore you with shoulder injury details, but the damn thing has regressed again, so it wasn't going to be pretty... Anyway ...
A big northerly, I decided to use 90" to qualify, figuring I'd get the fist of (deity of your choice, FSM, fairies in the garden etc) up my backside for most of the run and momentum would carry me home. 13.528s 53.223 km/h. I left my run a little late and should have gone faster, but under the circumstances I was happy with it.
Here's the powertap graph of the effort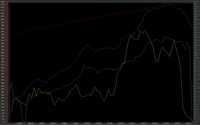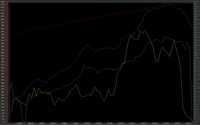 After that I was 3rd fastest in B grade (again ....). I'm up first against Chris Dann, who is terrble at qualifying but very fast in racing. I went down to 84" (50x16) to try and improve my jump. It didn't work. Chris SPANKED me! Our last 200m was done in 13.0-something, we were flying, but he was flying far faster than I was! C'est la Vie.
Next, I was up against a newcomer to the series, Peter Ballas. Big guy, heavy, strong. I went back up to 90" and decided to keep the pace high and remove the jump from the equation. I made the first move with about 400m to go, got the lead into the lane at the 200m line with Peter camped on my wheel, I soft pedaled down the straight to lull Peter into a false sense of security, and then I booted it into the corner just as he started to come around. Ended up with a comfortable win. Cost me quite a few bikkies, but I did win it.
Round three against Greg Brunt. Greg's an enduro, while I play at being a sprinter, but he's no slouch. He also got me with the same trick he used against Neil (I shoulda been watching!) - He jumped, I reacted, he slammed on the brakes, and SO DID I (STUPID!). Boiled off all my hard-won momentum when I should have taken advantage and tried to gap him. Then he kicked again and I was blown off the back.
But, because I'd qualified well and there was a lot of us on equal points, I had to race Neil for 3rd, over three laps. Neil's a machine, FAR faster than me, and with a much better jump. He was dog tired from riding a 12 hr MTB race on a single speed on Saturday, and he'd qualified like a gumby (for him, that is), but he'd found some legs through the day and I knew I was in for it, especially as I was already pretty smashed. Sure enough, he went early and ramped it up, I was doing my best just to hold his wheel, then when he jumped, see ya! Save me a snagger ... I'll ge there eventually. 4th place for the day. That, under the circumstances, isn't too bad.