breaking even
A win at DISC pays the entry fee
Thursday night, and it's time to debut the new wheels. My new Bontrager Race-X-Lite carbon singles, with Tufo S3 Pro tyres, all glued up and ready to race.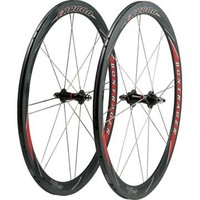 The wheels are the hr0n! First impressions - these things are responsive. I don't feel any faster (how can you tell anyway outside of a wind tunnel with a power meter?) but they have thought-control steering. I'm glad I have a solid 10 months of track racing in my legs, they'd have been way too responsive for me as a beginner. But now, I like .. yes.
It's only Dino and I tonight, and Bev, the Llama and Von in the crowd. No other aboc'ers present (slack ... but Nathan has an excuse, he starts racing there again in his next block)
Anyway .. did ok in the scratch race, maybe 6th or so? Lain Hammond won it, which was pretty impressive, she's maybe 17 or something? I don't know how old she is, but for a female, and a female junior, to win (ok, only C grade .. but still, some strong boys ride it) is pretty impressive. Well done Lain.
The points race and for the first time since I've been racing at DISC I don't get dropped. Positioning and knowing who's who, and not working as a leadout. Thankyou to Dino for my leadout for the first sprint, I should have talked to you more, my fault! I contested every sprint, got 3rd in the final sprint but 4ths or worse for the rest, so no points to speak of. Still felt good though, good to not have to chase for 10 laps. A bit crampy in a leg, but that soon settles down after an easy roll around.
Along the way we're cheering on big Stu Vaughn and Mal Sawford, Mal had come over because he's afraid of the dark and wet, and wanted a ride. His track bike looked pretty clean for something that had been (he claims) not ridden for years. Uhuh ...
On to the motorpace, and I'm feeling pretty good. It does the usual thing, I manage to be in almost the perfect place, on the bike for the last paced lap, the bike pulls off, I surge for 50m or so, then sit up, no-one comes over the top, I surge again for aother 50m or so, sit up .. still no-one, 1 lap to go, put down the hammer and go ... and ... 250m later, still no-one comes over the top! That'l be a win, thanks Eddie. w00t! Wave to the aboc cheersquad, do the 'touch the tyres, burn the hands' thing, roll around and think 'that was pretty good!'.
I felt strong all night and never felt like I was struggling or in any danger of not being able to contest the finish of any of the races, which was a first at DISC - I'm getting close to how I felt at Blackburn over summer racing C grade, where I knew that I could win anything if I did the right things tactically.
So what did the win pay? $10! That's $16 total DISC prizemoney. $10 to enter, so for last night, I broke even (if you don't count the new wheels .. the tyres, dinner ... etc etc one does not race for the money ... )
This morning I picked up the prototype of the new aboc polarfleece jerseys. Very nice. Perfect for cold nights at DISC. Royal blue with yellow trim, and the aboc logo on the front and back, 300 weight fleece, good quality, low pill and made in Australia (no Nike sweatshops here!). It looks pretty snazzy. Once I have a firm price from Rowbust we'll be putting in an order for a bunch of them. Got a prototype skinsuit (size L) for evaluation too .. I think Dino will fit into it so we'll try that on Sunday afternoon at DISC. If he likes it, we'll get the pattern done up in Illustrator and then I'll do a design with aboc colours. I'm reviewing Steve Hogg's (of Bicycling Australia and cyclingnews.com fame, as well as being regarded as one of the bike fit gurus in Australia, with John kennedy as the other) DVD at the moment, 'Sitting pretty'. Interesting to watch, I like the layout of his fit studio, will have to negociate with Pete from Cycle Science about my fitting 'space' at the shop.
I'm also trying to convince Dino to ride the BBN/HCC ITT on Sunday morning with me, on the aboc tandem. Place your bets .. but if he's crook I'll have to look elsewhere. Maybe Rob Monteith? Rob? You want to do it?
Now it's time to go and get some extra hot chilli noodles and work at the shop for the evening. I have bikes to fix, people to fit and stories to tell. Thanks for reading.