Round 1 report
Mixed feelings
I was very much looking forward to round one of the aSSS yesterday. On Saturday I was jumping out of my skin, but I woke on Sunday feeling a little flat and lethargic. Lucie and I did all the making of the rolls for lunch etc and I did a warmup set in the 'Haus to kickstart my legs. The warmup felt heavy. Hrm.
Anyway .. We got to Blackburn, John Lewis and I set up the timing tapes and people started arriving. I slapped on the replacement FFWD 5 spoke front and the disk rear wheel onto my T1 and did a few warmup laps and one surge, that felt ok. 98" was the gear for the day, not much wind and I should be strong enough to push it.
A bit of background on the 5 spoke. I got it initially about 3 weeks ago, and tested it out at DISC only to find that it had loose bearings and shook uncontrollably at around 30km/h, so we sent it back to FRF (Aust importer) and they sent me another one which we got just in time for round 1. Pete from CS-M glued it up during the week. On Saturday I bolted it into the bike and it didn't feel 100%, but was a lot better than the first one.
Flying 200 time, and I'm psyched for a big one. Wind it up with a very light northerly breeze blowing (< 5km/h, perfect conditions), the front end twitches just a little up the front straight during my windup but seems ok, I hammer it into the clubroom corner to get up to speed, drop down following the Nicko-Line and feel fast crossing the start line ... then I hit the corner and the front end goes ballistic. In motorcycling terms it did a tank-slapper. The front end of the bike shook uncontrollably and I was heading for the fence with no control over the bike, frantically backpedaling to slow down and wash off some speed. I managed to get around the corner with the front still wobbling all over the place and record a 15.something time. I ask for a rerun and Sue approves. The 5 spoke is swapped out for my older Bontrager carbon front wheel (that I trust!). The FFWD 5 spoke is going back, and I don't want another one. A $3,000 wheel should have better quality control than these things have and as far as I'm concerned they ran shove it up their backsides and I want my money back!
I get about 30 mins to recover to do my second run. I'm still a bit shaken (and fatigued from the first run!) and I only manage a 13.802 (52.17 km/h). That's pretty slow. It qualifies me as the second seed in B grade, Rob Tidey was 0.4 faster and he's the first seed in B grade. Dino's made the cut into A grade as has Neil Robinson (his first time in A grade!). Chris Ray and Gary Jackson are the fastest two in A grade, being the only riders on the day to get into the 12 second box.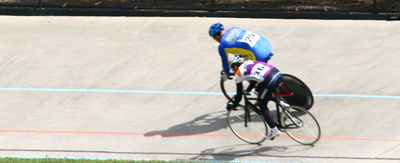 Round 1 and I'm up against Nathan Fraser (14.174). I should be able to get this, Nathan goes very early, very hard. I'm on a big gear (98") and it takes a while to wind it up and I chase like a madman for a lap and a half before catching him just before the final bend, he's blown and I fly past and take a win first up. That took a lot of energy to do! I had to ride a 550m ITT to catch him. Ouch. I'll pay for that (and the extra F200) later. Final 200 : 15.036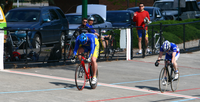 Round 2 vs Leon Sims (14.124). Similar race, Leon jumps around 450m so to go and gets a gap, again I'm chasing but once I get on top of the 98" I have speed and get him by a bit over a bike length. That hurt too ... Still, two from two is the best I've ever had at an SSS round. Final 200 : 14.121
Round three and I'm up against Andrew Steele (13.921). Steelie's the flying 200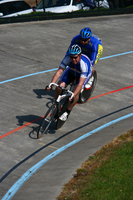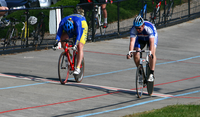 record holder at Blackburn, before he had a long break from the sport he rode an 11.94s. He's a very smart sprinter. Certainly he's not in the best shape of his life, but he's still got a lot of power and a hell of a lot of race smarts. If I'm not in front of him with 200m to go I'm toast, I figure. Jokes at the start line about the combined weight of the field in this race being close to 300kg! I get schooled in how to ride a sprint and Steelie wins it by half a bike length after sitting up once he knew he had the win. He has this amazing surge and back off which he kept throwing at me and I'd never raced anyone with that in their toolkit. A really good lesson and I'm thrilled to have been able to race against him. When he gets into some better shape he'll be very fast again. Final 200 : 13.789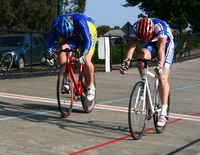 Finals, I'm in the 3v4 ride off against Marc Wilson (13.905). This is over 3 laps and he draws the lead. I go under him and take it off him and hold him up high, I don't have the energy for a long sprint and I want this one to be a last lap drag race, I'm persisting with the 98" gear. I haven't had a chance to watch Marc race much, he gave Rob Tidey a decent race in round 3 which I did see. We jump around about together and it's a good race, but Marc gets it by half a bike.
So, two flying 200s, Four match sprints. Two wins and two close losses. I shouldn't be unhappy with that. I'm very unhappy with the (very expensive!) FFWD front wheel though!
The day itself went just about perfectly. A full field, some brilliant racing and the series is everything we dreamed it could be. Lots of positive feedback, the team did an amazing job (again!) - Sue ran the races with the right level of control and authority, it was all run in good spirit and we have hundreds of photos (thank you Lucie and Nathan) and loads of video for me to edit and upload over the next few days. The electronic timing was great, thanks to John Lewis and Nathan Frazer.
Next round, I think I'll drop down to 94" or so, the 98" was too much to accelerate and while I had loads of speed on it, tactically it was the wrong gear for the day.