Anna Meares can still go to Beijing
She needed a lucky break ...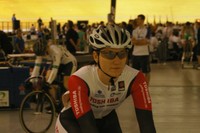 Anna Meares has still got a chance to go to race the sprints at Beijing after the results of the Manchester worlds didn't let a couple of her close-on-points-to-qualify riders get enough points to bump her down out of the list. After Anna's crash and injury in a keirin at the LA world cup round earlier this year, she needed a bit of luck. It's great news for Anna.
Her work will be cut out for her, and for anyone who thinks female trackies are slow, the current F200 record is held by Russian Olga Slioussareva, set in 1993, 10.831s (66.476 km/h), and Victoria Pendleton from the UK has just ridden a 10.904 (66.031 km/h). There's a lot of female elite trackes doing very low 11s flying 200's. The boys are doing low 10's and high 9s (72 km/h), it's not much difference. The power required for another 5km/h is quite a bit (remember that air resistance is a quadratic function), but there's only a second betwen the top female and top male riders in flying 200's. Go, Anna!
Some maths from analytic cycling :
To ride at 72km/h (20m/s) on a board velodrome with an 'average' rider's frontal area etc requires ~1250 watts, 66km/h (18.33m/s) requires ~960 watts. This seems a little low, but remember that the riders have to get up to speed under their own power in 2 and a bit laps, a flying 200 is three laps of a 250m velodrome. Peak powers are much higher as the riders accelerate.
You can play with numbers here : www.analyticcycling.com and to convert km/h to metres/second divide by 3.6. (km x 1000 = m/h, / 3600 to get that in seconds)