Dino at the TSSS!
Not content with a PB in the flying 200 ... Dino wins B grade at the TSSS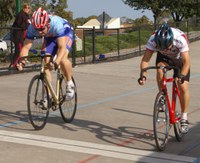 Dino pips Mason Austen by a tyre to win
There's got to be something in the Apolito genes, hot on the tail of Emily being crowned the JW13 state track champion, Dino backs up at today's final Trek Summer Sprint Series round by not only setting a PB in his flying 200, but it being the quickest time in B grade (Dino was riding C grade previously) and going on to win the grade. Dino .. awesome!