I'm back (ish)
Not displeased with how I went at SSS r4
It could have been better, I might have been able to train consistantly, but that's life and we all have reasons/excuses for why we perform how we do on race day. I'm lighter (~100kg vs 113kg) than I was at this time last year which has helped my jump. My jump still sucks, but it sucks less than it used to. Now I'm only having to bridge up 10m, not 40m and that's a significant improvement. I'm back in the gym as of last week doing consistent lifting after a layoff of some 10 months so I'll get strong again. The week in the pressure-cooker at Dunc Grey didn't help my preparation, excuse, excuse, excuse ... !
ENOUGH! Get on with the damn racing!
Ok ..
I warmed up on 50x17, light easy gear. Did a couple of revouts, one chasing Neil, just to get things moving. On Saturday I'd done some short efforts at Daryl Perkins' session at DISC just before our NTID session and I felt ok. Hitting around 1400 watts peak doing jumps. Ok, that's not too bad for an old guy who's missed a lot of ENOUGH WITH THE EXCUSES! .. it was a good session yesterday!

Flying 200 time. I rode a 13.5, not that far off my PB (around 0.2 I think, slower than it) - I didn't use the disk wheel, I kept the powertap wheel on all day, so here's the evidence for the flying 200. Conditions weren't ideal, a southerly and pretty cold. I'm pleased with that time. I still want to get down into the 12's but I think that will have to wait 'til next season.
Draw done, and I'm to race James Dann, Ian McGinley and Aaron Christiansen in the rounds. I was the fastest qualifier in B grade (again!). 6 of us in the grade. Being fastest qualifier helps later, as you shall see ...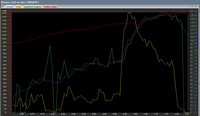 James is a junior invitational rider, I coach him and he's got a kick. But, he's restricted to 82 gear inches. I'm on 90". How do you take the jump out of the picture? Keep the speed up and burn him off. That's the theory, at least. I lead out, jumped coming out of turn 4 (should have gone at the entry to turn 3 ...) just before the bell, James kicks and is in front of me. Right ... chase chase chase, on the wheel, coming past but left it too late. James bags his coach. I'll fix him later! Our last 200 was done in 13.4 seconds and he was in the front all the time, James was really moving. Watch for him next summer.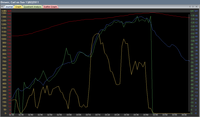 Second race and I'm up against Ian. He's mainly an enduro but can sprint a bit. A decent all-rounder. He jumps me, I chase, I go to pass on the back straight but he uses a second kick and stays clear. Doh! Ian's a good racer and his flying 200 doesn't reflect his ability.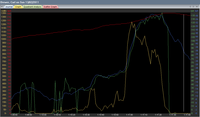 Third heat and I'm racing Aaron. Aaron's done very few match sprints but he's a very fit rider and has ridden faster flying 200's than I have at DISC. I can't take him for granted, that's for sure. Again I get gapped at the jump but this time I find a bit more speed and manage to catch Aaron just in time to bag a win. That hurt. Lots. I'll pay for it if I make the finals.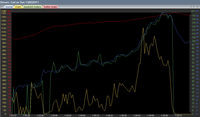 At the end of the rounds there's a few of us tied on 9 points. As the fastest qualifier I get the forth spot, racing against Nicholas Cockerell (another newbie). Three laps. I'll have the lead thanks, and I hold him tight up against the fence for a lap and a half, I don't want a long race, but I need the speed high to reduce the impact of his jump. He gets around me, I get up to his wheel but not enough and he wins, I get 4th overall (again!). Interesting fact, I've never been on the podium at an SSS round. As the guy who runs it I think that's probably appropriate, but I'll get on the damn thing one day and shake my own hand!
Video to come ...
Thankyou to :
Lucie Akers (photography)
Jodie Dundas (videography)
Krissy Dundas (general help)
Anne Apolito (race entry and results)
John 'Star Trek' Lewis for race timing
Sue Dundas (commissaire)
Chris Dann (commentary)
Alex Vaughan (sausages!)