Mick Thomas wins Blackburn Club Champs M3 scratch
In a thriller, Mick Thomas comes out a master!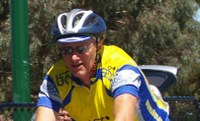 Mick Thomas
In the Blackburn Club Championships today, Mick Thomas capped a successful season with a win in the last race for the club championships, the Masters 3 scratch race, riding a tactically astute race with a perfectly timed sprint, Mick took the MMAS3 race by a whisker. Fantastic ride, Mick!