Three in a row - washed out!
Who'd have thought, global warming, drought, and three washouts in a row
Today a hardy few riders and volunteers showed up for the third atempt at the Blackburn christmas h'cap.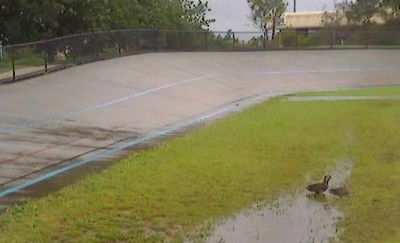 At least the ducks had a good day!
The BoM radar for the afternoon shows :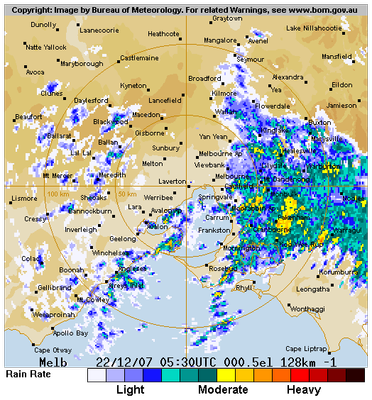 So it's not really a suprise! Aparently on Wednesday the Blackburn velodrome was flooded up to the blue line. And DISC, last night (Friday) was closed, it seems the roof leaks, and wet concrete is one thing, but wet boards?
To put it in perspective, we need rain more than bike races. Rain is good. We managed to squeese in two races, a all-grades 3 lap h'cap, won by Dale Reith, second place .. Dino! (helped by a lap and a half leadout by yours trully) and then after a break for rain, another 3 lap F-D grade h'cap was run and completed, and the A-C grade was called after one lap when rain started again in earnest with 35kn crosswinds. Time for the BBQ (thanks Bev!).