Chris O'Shea's trip to France
by Carl Brewer —
last modified

2007-07-30 01:48
Contributors: Chris O'Shea
Chris O'Shea has come back from his 'trip of a lifetime' to ride the cols of France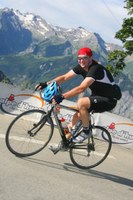 Chris O'Shea on Alpe d'Huez
You can see his favorite photos from the trip here. Chris and Peter Haley from Queensland spent three months training in the Brisbane foothills for this ride, including many climbs of Mt Coot-tha, Mt Gravatt, Mt Glorious etc.
Along the way Chris has sent a few emails :
Just a brief note before I get some sleep.
So far we have climbed ventoux, dhuez, croix de fer and d'ornon. We have also visited glandon. Can't say we climbed it, separately, as it is a 150m deviation on the road up to croix de fer. Tomorrow is telegraphe and Galibier, the beast. Legs feel great. This has been awesome fun and well worth the grind of intervals at murrarie for a few months. The pick so far is Ventoux. It is a brute. And the wind in your face for the last 6km once you are out of the forest is heartbreaking. I'm looking forward to boxing the bike and enjoying the wines in Paris for few days at the end of this!!
And afterwards :
In late January this year, a friend (Peter Haley) and I hatched a plan to travel to France in June to ride the famous climbs of the French Alps. We identified 3 key issues to overcome:
securing leave passes from our wives (I have 3 daughters aged 8, 8 and 5 and Peter has a 5 yr old daughter and an 18 month old son);
locking in leave at the end of the financial year (I work in a large law firm and Peter works in a large accounting firm);
ensuring we were fit enough to achieve our goals and enjoy the trip.
The first issue was handled with disconcerting ease. As soon as spousal approvals were secured, we prepaid every expense we could so that there was no way we could back out.
On the work front, we both had some favours owed to us by fellow partners, so it was just a matter of locking in the leave and defending it with all our might on the many occasions that it was challenged. Having spent some serious $$$ up front also helped in this regard.
The last issue worried us a little. We originally planned on booking a supported tour, so that we had less logistical cr@p to deal with. But then we thought - what if we booked in for a tough tour and then got sick or had insufficient time to train? There would be nothing worse than getting shelled out the back on every climb and being a handbrake for the rest of the group. And we didn't want to book a less challenging tour and then wish we were working harder or attacked harder climbs once we were over there.
So we decided to go it alone and organise out own schedule. No supported tour for us. This meant that we could climb as often and as hard as we wanted to.
We decided that we would climb Mont Ventoux, Alped'Huez, Col du Galibier and Col de la Croix der Fer - these are some of the famous, mythical cols that we had both watched the TDF riders struggle up over the last couple of decades. If we had the legs, we'd climb whatever else was on offer while we were over there too.
With the flights and accommodation booked and the itinerary set, the only thing left to do was get fit enough to achieve our goals and enjoy it.
My recent background was in triathlon, and an occasional XC mtb race and crit. I am 39yo, usually around the 92-97kg mark (though I should be under 90 all the time) and not what you would call a "natural climber". With a young family and a busy professional life, I have limited hours to train. I commute to work by bike and my average weekly km count when not training is 230. Peter has a longer history in triathlon and has run 2 marathons, but both were some years ago. He also has a young family and busy career and is time poor like me. His average weekly km count is comparable to mine. He is taller than me, but around the same weight. We would generally climb at around the same pace.
We thought about preparing ourselves by doing some long base miles for a couple of months and then just doing heaps and heaps of climbing. But we ultimately agreed that the best thing to do was to get professionally coached. That way we could be sure that:
we gave ourselves the best chance of getting ourselves as fit and prepared as we wanted to be;
we would be on a program that would not contain "junk miles"
someone who actually knew what they were doing would be involved in our preparation; and
we would not have wasted a whole lot of money by flying half-way around the world just to ride half-way up some mountains.
I could have gone to the coaches at the local cycling clubs. I could have gone back to my triathlon coach. But I thought it would be better to work with a coach who had prepared riders for this type of riding. I have been a long time poster and lurker on aus.bicycle (monsterman). I knew from the posts there that Carl Brewer (aka Bleve) was someone who:
enjoyed the respect of other aus.bicycle posters that I respected;
was seriously passionate about his cycling;
knew his stuff from a technical and scientific perspective;
enjoyed working with weekend warriors and average cyclists and got good results out of them;
had prepared riders for tough events like the Alpine Audax and the Warney (witness also his climbing camps); and
had a sense of humour.
I dropped Carl an email and a week later we had a very detailed hour long phone conversation about athletic background, current fitness levels, cycling goals, experience with HRM based training methods, equipment, bikefit etc etc. It was very thorough and professional.
Two days later Carl emailed me the first month of my program and I was off and riding. Peter called Carl a week or so later and had his tailored program just as quickly. Each program took into account our available training time and the facilities we had locally to train at (gym, crit circuits, hills to climb etc).
Our training programs were most definitely achievable. I managed to complete over 90% of the scheduled sessions even though the inevitable sickness and work demands took their toll occasionally.
We were very well prepared physically (I even got down to 87kg for the trip - where I stayed until the last 4 days of the trip in Paris when the fromage, vin rouge and crepes started to kick in!!), and as a result we thoroughly enjoyed the whole trip. We climbed each mountain that we set out to climb, as well as Les Deux Alpes, Glandon, and the balcony roads around l'Encrins Massif. It really was the trip of a life-time.