The track powertap is fantastic
I'm very happy with this piece of equipment
I know I've banged on about this before, and I'm going to bore you again with it. We debut'ed the new powertab wheel last night at DISC. I'm no stranger to training with power, I've had a Powertap SL 2.4 in a road wheel for a couple of years now and it's a great tool there, but my emphasis these days is track and once you've trained with power, it's very frustrating to not have it.
After a bit of show and tell as a few of the Sunday Roast diners had a look at it and asked me a bunch of questions I either didn't know the answer to (How much will it cost? How does it work? "same as all the other PT's!" Is there a Zipp 1080 option? How much is that doggy in the window etc) or wasn't at liberty to discuss (How much did I pay for it?!) or wasn't going to answer yes to ("Can I borrow it next Sunday?" No, but you can hire it!) Nath showed up with the valve extender and we put air in it and I slapped on a 17 tooth sprocket.
As with any new toy, I was a bit mesmerised by it, doing the warm up on a damp track (yes, DISC still leaks .... the irony of an indoor velodrome that gets water on it when it rains!) we had to dodge a wet spot (cue the jokes, now ..) at the end of the finishing straight and I had to pay attention to riding, not looking at the computer all the time. I wasn't going to be the first to test the hub in anger though, that was Emily's job. After we warmed up she was set to do a 500m ITT and we popped the gate on the track and the wheel in her bike (and the computer up her sleeve!). A 10 count, and she's away at full torque for 500m (two laps of DISC). She rides a great time on it which would have won her last summer's JW15 state titles again, but by more (2 tenths faster than her Vics winning time last summer). No worries.
My turn.
Our sprint training for the day is low speed jumps. This'll show if the guys over on FGF's fears about axle slip are real. I'm matched up with Rob Tidey, on 91.8". From 6km/h to 50km/h in 10 seconds, peak power 1501 watts, peak crank torque 199.6nm. No movement. No worries!
To be sure, we did this 4 times. Still no movement. I'm very far from the strongest track sprinter around, in fact I'm a 'never was' and a hack at best, but that was a pretty good test and it passed with flying colours. Arr, it's nice to have power again!
The rest of the session went well, except we cut short the finish as the track was slippery and damp and we had a tumble during a practice sprint. Everyone was toast anyway so no-one felt like they wanted more track time.
I took the laptop to Nandos and grabbed the data. Here's what my 4 low speed jumps looks like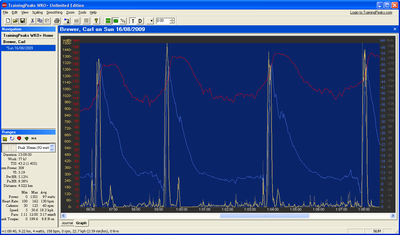 I can't show you Em's data, that's confidential, but I can say that the meter allows us to see where she's really strong and what we need to target to get her faster much more than we've been able to with simulated stuff on the road Powertap on an ergo.
The device isn't perfect though - rare indeed is it to have a version 1 of something that's 100% sorted. It comes with bolts instead of the more standard axle and nuts and these can be a bit fiddly to do up when setting chain tension. I spoke with Rich from Wheelbuilder today and he's going to address this with a set of studs and he tells me we'll have the first ones to test out. Also, and this is nothing to do with the track adaptor Rich made, Powertaps do tell you cadence, but in the same sort of 'random number generator' sort of way that Polar and iBike do power - ie: not reliable. If you're interested in cadence and can't be bothered working it out from speed and gear, get the Cyclops cadence sender as well.
I'm not going to make a fuss about the rest of the wheel, it's an Edge Composites 68 carbon clincher laced with 32 Sapim CX-Ray spokes by Wheelbuilder as per our spec (build it strong, Rich, it's going under heavy sprinters!). As I'd expect it was stiff and felt fast. With a Veloflex Record at 140psi it felt just as good if not better than the tubulars I run on my regular indoor track wheels (Bontrager carbon track rims with Tufo S3 Pro's). It may be faster, it certainly looks fast and feels as stiff as anything else I've ridden except the disk wheel. The White Industries sprockets look solid and feel reassuringly heavy.
So, overall, I'm very happy with this device. At its first outing it's providing us with very valuable information which will help us all to go faster and that's what we want to do, and it's around half the cost of an SRM crank system here in Australia. For us, this is a win, thankyou Rich Sawiris!