sprintTracker!
I've been busy!
On Sunday at our regular DISC training session, we did K1's for the sprinters. I had a little help from Rachael Matties who started putting data into sprintTracker for me.
Here's what the data entry form looks like :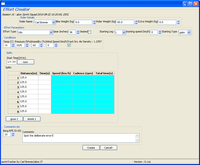 This is only a small part of this application, but it's the one that will get the most use - we will use it to add data into an SQL (sqlite3 at the moment) database for all our sprinters times. Yes, it doesn't do power (yet). For now my goal is to have it able to store all our training data from both aboc and NTID Sprint sessions and allow us to analyse rider performances quickly. Just getting the data into the database is the first step. Once it's in there we can query to our heart's content.
So I've been busy - the application is written in a programming language called Python, using a GUI toolkit called wxPython and a database/object orientation toolkit called SQLAlchemy. I'll be using matplotlib to generate charts and graphs, but that's another toolkit I have to learn to use and it'll take some time to get something useful out of it. I'm very very rusty as a programmer, the last time I did any even vaguely serious programming was way back in 1996 and that was a horrid mismash of code at Westpac to maintain a DNS database written in Perl. Ugly ... I'm not proud of it! Anyway, sprintTracker will hopefully scratch an itch I've had for some time re keeping records of sprint performances that a conventional spreadsheet isn't powerful enough (or I don't know enough about!) to do.
Along the way I've had a shoulder injury that's kept me out of the gym, the doctors diagnosed it as a supraspinatus bursitis, which is an inflamation of the bursa (sort of like a bearing) around a tendon in my shoulder. It's sometimes known as a subacromial bursitis. They (the doctors I saw) insisted I have a cortisone injection in the shoulder. Cortisone is on the banned list both in and out of competition, and so I need to get a TUE for it, which is a pain in the arse but must be done if I'm to keep my racing licence. Round 1 isn't that far away ....