MACC's again
A couple of solid days training
This weekend is the Blackburn club championships on Saturday (sprint and 500m time trial) and on Sunday it's the sprint and keirin Vic Masters championships. A busy couple of days. I'm MMAS3 this year (40-44) which is new for me. The standard is pretty high at the Vic masters, there's a few riders there who are orders of magnitude faster than I am. So beit. I'll do my best. in the lead up, I've had a good fortnight's training. As mentioned earlier I'm back in the gym able to squat and getting some good quality track sessions done both at Blackburn with Dino, Pat and Nic, and at DISC. Hilton did a set of four MACCs for me yesterday before the mani training session. I found a new top speed on my track bike. 66.1km/h. We have kids that go that fast, but still, for me, that's moving.
Here's the graph of that effort.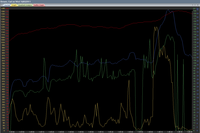 They're great fun, MACCs. You don't break the wind but they really get you moving. Good stuff. The video from a couple of these efforts is below. Seriously good fun!
So the last couple of days, trained on Saturday, raced SSS round 4 on Sunday, lifted in the gym on Monday, MACC's and rider pass efforts on Tuesday at Blackburn, MACC's at DISC on Wednesday, today (evening) we're in the gym again and Friday will be a rest day. Then the fun begins. Good-o.