Life starts to return to normal
The Aussies was huge ...
I'm relieved that the Australian Junior Titles are run and won. We (aboc people) had Emily, as you know, who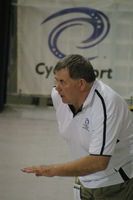 rode her socks off and did everything she set out to do. Dino and I also video'ed all the Victorians, I wasn't in any way part of the coaching team for the Vic squad, but I wanted to help out in some way so I took the camera and video'ed everything. It's not much of a contribution but it's something and it's good for the kids and their parents. It meant I didn't have time to get many stills but Leanne Cole was one of the official photographers and she got some rippers. You can see her work here. My videos are being uploaded to youtube and you can see them all as they go up here. I got almost every Victorian ride except the JW17 500m ITT and a couple of qualifying rides. I got a good photo of Hilton doing what he does best, which I'm happy with.
And so now things will return to normal for a bit. Which is to say, busy, but not overwhelming. Yesterday we had our DISC summer session which was well attended, I didn't have Nathan as he's got transport issues so I did all the motorpacing for the sprinters as well as the enduros and they all left well toasted. This coming week I'll be training and coaching on Tuesday morning at Blackburn, coaching on Wednesday afternoon and evening with Hilton and the NTID/CCCC mob from probably 3pm-ish 'til around 10pm, Thursday sees us running Summer Spin at Blackburn, Friday we head up to Hotham for Climbing Camp #12 for the weekend and on Monday morning next week the first of the DUCC skills sessions at Blackburn. Along the way there's a few strength sessions in the 'Haus and a pile of training programs to write. You should see my calender! Phew ...