Blackburn track racing promo
A flyer for the Blackburn Summer of Track etc
Last night at the BBN committee meeting we decided to pop a flyer in a mailout to all BBN members, so I offered to put it together.
An hour with illustrator later, and here it is, click it for the full PDF :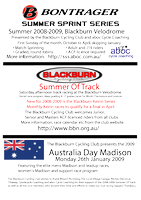 I'm off out to the Powerhaus now (wasn't feeling crash hot this morning, so missed training with Dino at the velodrome), then the Mermet later to coach and do some explosive lifting. It's all good ... except these creatine loading headaches! Must drink more water ...