2008 Trek Madone 5.2 performance
I rode and reviewed the '08 Madone 5.2, here it is
56cm '08 Madone 5.2 Performance (Ultegra)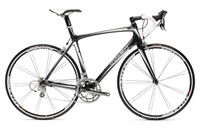 "Just like the old 5.2 but better"
Background
After some years in development, Trek have released a bike that is a radical departure from their original OCLV carbon roadbikes. It's still OCLV, it's got the same Tour winning geometry that's been used 8 times in the last 9 years to win the Tour de France. What's new? A lot. An awful lot.
Trek went back to the drawing board, but they didn't start with a blank sheet. The challenge was to build a better road bike - lighter, stiffer, more compliant, but not to compromise the handling of the bike. Along the way they looked closely at a number of assumptions, looked at what other manufacturers were doing, took the best of the other ideas and improved them where they made sense, and they came out with a bike that delivers what it promises.
What did they do?
They looked at stiffness. How can a bottom bracket or a head tube be made stiffer? Make it thicker? That's heavy. Use stiffer and stronger materials - already doing that. Make it wider? Why not?
They looked at fit. What assumptions are being made about riders positions, can a frame be made more suitable for a wide range of people without compromising on high end performance? What needs to be looked at? Can roadies learn from Triathalon and the concept of reach and stack height for frame sizing?
They looked at compliance, how can the opposing requirements of horizontal stiffness and vertical compliance be joined into a fuselage that feels alive and responsive, but provides comfort for all day, day after day riding?
They looked at longevity and reliability, how can a fork be made stronger, how can a frame be made more resiliant in the face of real riding conditions?
What did they come up with? Read on ....
Stiffness
The holy grail of roadbikes - a superstiff frame. Or is it? In some ways, yes it is. We want the energy we use to push the pedals to be used to push the bike forwards, not to be lost in inelastic deformations or tyre scrub as a bike wanders over the road under high torque conditions. The bottom bracket needs to stay put. So does the relationship between the bottom bracket and the front and rear axles, and the forks should stay pointing where they're told to. How do we know if a frame is stiff? Ride magazine has a test jig, which measures some limited deflection, as does the German 'Tour' magazine. Are these tests valuable? A little, but they're not representative of real pedaling forces. So what is and how do we know?
It turns out that stiffness isn't quite the be all and end all, but it certainly is important, if for nothing else than rider perception. The 'feel' of a bike when sprinting is pretty important. Readers interested can do a google search for Keith Bontrager and a rant about frame stiffness. It's a good read. Here's a head start on the search.
Are you expecting an excuse now? Fear not. The new Madone now has a 90mm (ninety) wide bottom bracket shell. 90mm. How? They brought the bearings inboard again. Same Q-factor as a standard

crankset, but the bearings are back inside the shell, the shell's just been made wider. It's not the first time this has been done, but it's the neatest and most elegant example of this so far.
Making the bottom bracket shell wider means wider mounts for chainstays, thus a stiffer rear triangle. It means a wider link to the downtube, so the shell can be lighter and stiffer.
It also means non-standard bearings. In the case of the '08 Madone, it does not mean you have limited choice of cranks. With a different set of bearings (Trek supplied) you can choose between Shimano, Campagnolo, SRAM, Truvative and of course Trek's house brand Bontrager cranks. No worries.

What else? How can the front end be stiffened? Trek certainly aren't the first to jump on the wider (1.5") headset lower bearing, but at this time they're the first to really optimise their fork to suit. They call it No90, which means no 90 degree bends. For the first time Trek are producing a carbon steerer tube fork. This fork didn't make it into the 5.2, which retains an aluminium bonded steerer, but does have the No90 design incorporated into it. It's lighter and stronger than their previous forks, and they added a plastic cap to make the fork look like a regular fork.
How else can you make the fuselage stiffer and ligher? Military grade high modulus carbon, optimum matrix resins, appropriate materials, no syntactic fillers and an improved OCLV process using less, larger lugs and strategically placed joins, and a new process called 'net molding' which allows for particularly tight tolerances for bearing seats. Now you can just pop a bearing straight in, there's no metal surfaces. The carbon surface is significantly harder than any bearing race and Trek are confident that the frame's bearing surfaces will outlast you. Lifetime warranty, remember?
Fit
All the above is moot if the bike doesn't fit you. No fancy carbon, no uberwide bottom bracket, no funky forks will make any difference if the bike doesn't fit you. It's not the other way around. You don't fit the bike, the bike must fit you. Read that again, please.
So what?
Trek looked at the people riding their bikes. They looked pretty hard. They looked at the relationship between frame sizes and 'reach and stack height'. It turned out that the older Madones weren't all that good at providing a range of fits across sizes. Traditionally frames are sized on seat post height or standover, but this is not terribly useful. What really matters is the amount of reach forward from the centre of the bottom bracket to the bars, and the setback of the saddle from the same point, and the bar height (stack height). It turns out that most of the major players (including Trek) didn't have this terribly well sorted, with the notable exception of Cervelo. You can read more about stack and reach here, and how Trek looked at it here. What does this mean? The new Madone is more likely to be available in a size to fit you.
Compliance
The enemy of stiffness. A rubber bike? No thankyou. What do we mean by compliance and why do we want some? Compliance is essentially suspension. Bikes flex, and in some ways we want them to, more than others. Ideally a bike would ride like a dual suspension mountainbike over bumps, but go straight as if on rails. Vertical compliance, horizontal stiffness. This isn't anything terribly new, Cannondale's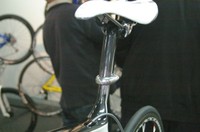 Synapse for example, and many other examples of curved seat stays, bouncy saddles and so on exist. How have Trek done it? In a rather special way. They've totally redesigned the top tube/seat tube junction, and added a seat mast rather than a traditional seat post. Oh no ... now we'll need a hacksaw. Or will we? No. Put the saw down, forget the nightmare of a botched cut or an attempt to resell your bike to someone shorter than you. The new Madone has a seat cap. No sawing. and a range of seat caps to allow you to have various amounts of saddle setback. This does come at a cost. The frame's now lighter. It's also a lot more water resistant.
I could go on further, but the technical details of the bike are online at the Madone minisite here where you can read what Trek have to say. You want to know how it rides and if any of this stuff makes a difference, and if the marketing meets reality.
So I went to Trekworld in Sydney and rode one for you and here's my opinions.
Pros
The ride. It really does ride extraordinarily well. Handling's like the old one – it's 'just right'. The vertical compliance and horizontal stiffness works. Very well. I was amazed at how familiar, yet also how different it felt from my old ride.
Light. It is noticeably lighter than my '04 Madone 5.2, even with my '04 5.2 having been upgraded to Dura-Ace.
Very (very!) stiff bottom bracket – I did some big gear low cadence grinds up a little hill in Paramatta Park and it was rock-solid out of the saddle and seated. Less movement than my '04 5.2
It felt just as solid and predictable at speed (only did ~50km/h on one descent though), just like the old Madone.
Nice wide top tube – good to sit on at the lights!
Saddle – surprising – it looked bad, but felt very good. Normally I wouldn't mention a saddle as part of a review as everyone has their own favorite and it's pretty much irrelevant, but this saddle was a winner for me. I'm going to get one and fit it on some of my current bikes. Trek did a lot of work with the Uni of Wisconsin developing their new range of saddles, and it seems to have worked.
Wheels? I didn't really do anything to tell. They felt ok, not too noisy in the ratchet. I'm not generally a fan of the Bontrager wheels as they have alloy freehub bodies that suffer from dig-in with 10 speed Shimano cassettes and Trek/Bontrager have a remarkable reluctance to address the issue. They're light and stiff, so for most, they're good. If you don't change cassettes much, there's no issue with them. To be fair, many hub body manufacturers suffer from a reluctance to design their alloy freehubs to work better with 10 speed Shimano gear. It breaks compatibility with 9 speed, but 10 speed has been around for long enough now to make this an inexcusable oversight. Trek pride themselves on making products that last and that they address problems openly and promptly, but the 10 speed freehub body issue is a glaring example of this principle not being applied.
Cosmetics, the bike just looks great. This is of course a subjective thing. They now have a slightly sloping top tube, and as a crusty traditional-frame retrogrouch I wasn't impressed by the photos in early reviews, but in the flesh, these new Madones look superb.

Fit. I ride a 56cm '04 Madone, the '08 fits me just fine. The one I rode was a performance (the 30mm higher front end), but with the stack set at the bottom. I'd normally ride the 'Pro' fit.
A drain hole. At last. Reality suggests that bikes get water in them. Almost all bikes have a drain hole at the bottom bracket, now at last, so do the Madones! Say goodbye to half a kilo of water sloshing around in your frame.
Cons
Nothing's perfect, and the '08 Madone isn't perfect. Trek left themselves room for plenty of minor improvements.
Compact crankset – I don't like the crossed chainlines in mid-range gears – overlap is good to reduce this. Many will prefer the compact crank in the 5.2 performance version, so that's probably not a big issue and for most cyclists a compact crankset is a better choice. Just, not for me! I'd prefer the 'pro' fit which comes with a 53/39 crankset anyway. You can swap in a standard crankset in about 10 minutes.
Seat post clamp – I experienced noticeable thigh rub against it when lowering a heel, if you have thin legs this will probably not be an issue, but the clamp would benefit from being higher up or redesigned to be less of a possible snag/tear point on knicks. This was brought up at a product seminar and a running change from October '07 will see a redesigned clamp that should significantly address this (minor) issue.
Cables – they will rub and eat the carbon. Bike builders will at a minimum need some sort of tape to protect the frame from rub.

This is at both ends – the rear brake cable has been re-routed to eliminate another thigh rub issue, but it's now flush up against the top of the seatpost/seatstay junction. The brake cable will eat through the shell in time, and look bad. Same with the gear cables at the head tube – they'll rub through in no time. Cannondale put their cable mounts further forward to eliminate this problem, it's not hard to solve and it's a bit odd that Trek have done this.
Cables – no longer is there a deraillieur adjuster on the downtube – it's been replaced by barrel adjusters near the STI levers. To be fair, these barrel adjusters look a lot more reliable and long-lasting than the usual ones on Cannondales, for example. Still, they'll be another entry point for moisture and will shorten gear cable life. I'd much rather see the tension adjusters down on the downtube, or if not, then the cable mounts being further forward to protect the headtube from cable rub. This is a "worst of both worlds" approach.
I'm still not convinced about the seat mast – it's either the best, or the worst, of both worlds. It does what most (all?) other seatmast arrangements have not done, which is to make it not need hacksawing and permanent changes wit the associated risk of ruining a frame etc. So if you want a seat mast, this is a good solution. Trek claim it makes the bike lighter and vertically compliant, and the bike certainly did feel very good on the road.
So what's the problem with it? There's a couple of main problems – one related to your LBS, Trek and long term availability of mast tops – no-one but Trek makes this bit and if Trek change designs in a few years (and they will .... count on it) you may get stuck with an orphan. As you get older, or fitter, you may want to change the saddle height and offset, and this will not be so simple if the part is hard to get.
Second, and it's a minor thing, but suprisingly important for those of us that ride these bikes in the real world outside of professional cycling. The seat mast is an aerofoil. Many rear lights won't mount to it, and some (many?) saddle bags may not fit neatly either. Trek/Bontrager of course sell bags and lights that fit, but maybe not the one you want? Deviations from standards are a big deal, even in subtle places, and this may bite in future. I got my current Trek because (partially) an expectation that the bike will be with me for a long, long time. How long will Trek stock the seat posts and rear lights etc? I spoke to the Madone project manager, Tyler Pilger, and he said probably 7 years or so. Long enough for a fad buyer, but not for someone planning on keeping the Madone for long enough to consider what 'lifetime' actually means.
The TCT Madones have a conventional seatpost and offer an interesting comparison point. If there is some reliable and convenient way to measure and compare the two it would be interesting.
The Bottom Line
So what's the bottom line? Is this a winner? Certainly the ride is superb and the bike handles like you'd expect – it does what it should and handles like a Tour de France winning bike should – no suprises, no quirks. Porsche, not Ferrari. Easy to ride fast, easy to ride long. It certainly won't let you down in any riding context, I couldn't detect any lateral flex when doing high torque riding. In terms of handling, it's hard to improve on the old Madone, and wisely Trek have left the geometry the same. The improvements claimed by Trek are that it's lighter and stiffer but handles like a heavy bike, and it does that, without doubt. This is just like the old Madone, but a lot better. As roadies, we know that small improvements in ride quality and losses of weight require big changes in the bike, and the big changes in this Madone add up to some pretty noticeable improvements.
The big question is are the changes and the non-standard bits worth it? There's a precedent for the changing diameter headstem, but you may pine for Chris King headsets, and there's a precedent for the over-wide bottom bracket shell also – so none of these are actually new. Many of the changes are really Trek playing cosmetic catchup also – the internal cable routing for example, and the seat mast is, as noted, either the best of the bunch if that's what you want, or a long term liability. Only time will tell on that one.
Will I get one? Once they start doing it in Project One, yes I think I will. Should you get one? As in any road bike choice, test ride one. I think you'll be very surprised, and no, the back tyre isn't flat. Where this new Madone will be a big winner will be the mid to high end roady buyer, the quality of the ride you'll get out of the 5.2, for example is better than many bikes costing significantly more, and it's the frame used by Discovery to win the Tour, get third in the Tour and win the team prize in '07. That's some serious credibility. The bike is a winner. I want one.